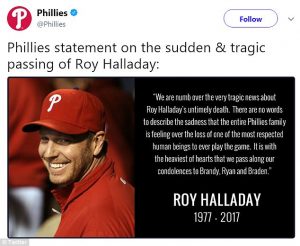 The Passing of Roy Halladay
Dear Father, Roy Halladay, the outstanding pitcher for the Toronto Blue Jays and the Philadelphia Phillies, passed away yesterday at the age of 40.  He was killed in an airplane crash in Florida.  Father, I ask You to comfort his wife Brandy and their two sons, Ryan and Braden.  They are no doubt in shock.  Be gentle and merciful to them.  Surround them with Your love and compassion.  Walk with them through their grief.  Meet their every need.  May Your people and the their community demonstrate the depth of Your love for this family.  Father, give his survivors many reasons to thank You after the tears have subsided.  Write a story of the amazing love of God in this tragedy.  May that story touch thousands of lives. For the rest of us, we don't know the time of our demise. It could be this very hour.  We make plans to go here and there expecting that we have decades yet to live.  We may have only minutes. Father, may the tragic losses of young lives like Roy's remind us to make every hour count – for You and for others. Amen.
MS-13
Dear Father, there are individuals in MS-13 tonight who have not found what they are looking for.  They feel hopeless.  They feel lost.  They live a very dangerous life.  They feel friendless.  They live their lives under the threat of death.  They witness horrific crimes.  They feel remorse for crimes they have committed.  Father, have compassion on them tonight.  Rescue them.  Bring the love of God into their life, not with a handshake or a whisper but with a huge hug.  Grab their hand and pull them to safety.  Rescue their hearts, minds, and souls.  May they find peace through Jesus Christ.  May they find stability in their life.  May they rest without fear of danger.  Though their tattoos might remain on their skin for a lifetime, give them a new mark that will never leave them – a renewed spirit abounding in joy for Your love for them.  Father, deliver people even this hour who want to be free from the violence of gang living.  Give them a testimony of a miraculously transformed life.  Amen.
Majority Believe America is in Worst Shape
Dear Father, the American Psychological Association has released a poll.  59% of Americans believe the country is at its lowest point in history.  The culture is falling apart before their eyes.  Father, I ask this of You – may the American public come to the conclusion we need to return to God as a nation.  Father, may their concern for the country not be alleviated by politics, technology, the economy, or entertainment.  May that nagging sense of cultural decay only find resolution in a return to You.  Father, use Your church through testimony-sharing and acts of compassion to give people hope for the future of this nation.  May thousands of people in every major city come to faith in Jesus Christ in 2018.  May those hearts and minds communicate the love of God and spread hope that You may yet heal this nation. Amen.
Animal Abuse
Dear Father, a report has surfaced of the torture of two elephants by a crowd in the West Bengal area of India.  Apparently the elephants, one of which was a baby, were set on fire.  Father, I have no idea what led the people to think this was a good idea.  However, I do know that hearts filled with the love of God are compassionate, merciful, and kind to all creatures.  We treat creatures with kindness because we can empathize with their feelings.  We treat creatures with kindness because we know You love them and You care for them.  Father, a man or woman who abuses an animal is a man or woman who will abuse a human.  Father, may those who take the life of an animal (such as a dying and beloved pet who is put to sleep) do so in such a manner that the animal does not suffer.  May their kindness to animals be practice for how they are to treat humans.  May those who callously enjoy the suffering of creatures have an encounter with divine justice. Father, if those elephants are alive this hour, nurse them back to health. Amen.